In the UK, people may suffer fatal or severe injuries in confined space areas at work every year. This occurs in a variety of industries, from those involving complex machinery to straightforward storage vessels. People working in confined spaces, as well as rescuers who attempt to help them without the right training or equipment, can be the victims in these incidents.
What is a confined space?
According to the HSE, a confined space is a place which is substantially enclosed, and where serious injury can occur from hazardous substances or conditions within the space or nearby (e.g. lack of oxygen). One or more of the specified risks stated below may be present or reasonably foreseeable for the situation to be classified as a confined space:
Serious injury to any person at work arising from a fire or explosion.
The loss of consciousness of any person at work arising from an increase in body temperature.
The loss of consciousness or asphyxiation of any person at work arising from gas, fume, vapor, or the lack of oxygen.
The drowning of any person at work arising from an increase in the level of liquid.
The asphyxiation of any person at work arising from a free flowing solid or the inability to reach a respirable environment due to entrapment by a free flowing solid.
How to find out whether an area is a confined space?
This figure from the Confined Spaces Regulations 1997 created under the Health and Safety act shows how you could determine whether an area identifies as a confined space.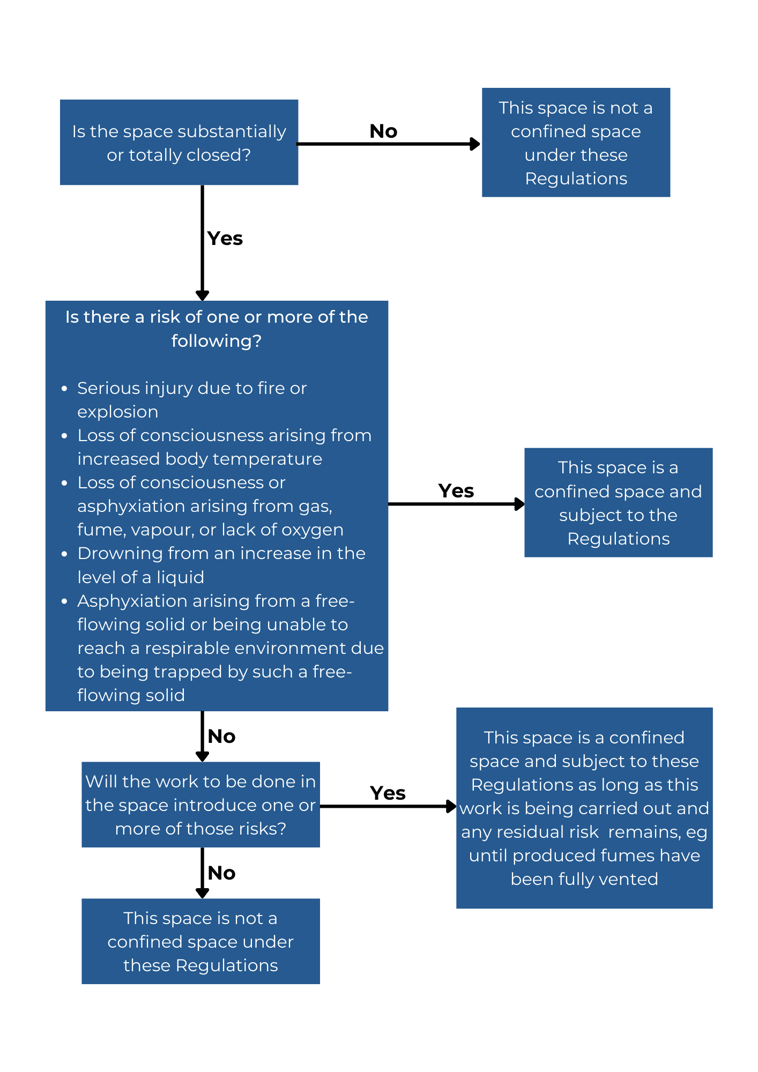 How to mitigate hazards
Wherever possible, workers should avoid carrying out tasks in confined spaces. However, where this is not possible, the risk of the confined space must be managed by doing a thorough risk/hazard assessment, planning how to mitigate/remove or control those risks and ensure all workers are fully briefed about the risks.
If a confined space has noxious fumes, consideration should be given as to how these can be ventilated or removed. If there is a risk of liquids or gases flooding in, it should be established whether the valves can be locked shut or have a safety mechanism in place. If someone is entering a confined space with low oxygen levels, breathing apparatus must be provided or the space should be ventilated to increase oxygen levels before entering.
Emergency Response in Confined Spaces
When things go wrong, people may be exposed to serious and immediate danger. Effective arrangements for raising the alarm and carrying out rescue operations in an emergency are essential for those who work in confined spaces.
Risks can also be diminished if workers wear an appropriate personal gas monitor. These devices are small, lightweight and designed to be inobtrusive. With developments in technology, there are a number of options available for confined space monitors, offering varying levels of complexity and cost. These include entry-level compliance options, which have a two- or three-year lifespan before being recycled, to longer life products which are regularly serviced and maintained, right up to advanced, cloud-based systems.
Gas Monitoring Equipment Pre-use Checks
The unit must be inspected before every use and checked for the following:
General condition of the monitor
Damage to casing
Unit has not been tampered with
Service/calibration date check (recommended every 6 months)
Confirm Bump Test has been carried out as per manufacturer's procedure (before every use).
The Shawcity solution
Shawcity provides a range of confined space instruments from our established partners, including Honeywell, GasClip, Blackline, Ion Science and Crowcon. These monitors can be configured based on the specific application using different sensing technologies including MPS, IR or Pellister for explosive gases and traditional electrochemical sensors for oxygen and toxic gases. Additional information on the application is also key; working in inert environments, for example, or if some adhesives are present may have an impact on sensor choice. These instruments can be deployed across a wide range of applications or industries.
The Benefits of Shawcity
An industry leader with more than 45-years' experience and a 'go-to' reputation in the industry for solutions, Shawcity provides a complete gas detection service with instruments available to hire or buy. All customers receive free consultations, ongoing technical support and product training, as well as fleet management support. Our manufacturer-authorised, in-house service centre completes our offer by delivering servicing, calibration, spares and repairs.
Contact us for more information or to arrange a free consultation, demonstration or site visit:
Telephone: 01367 899553
solutions@shawcity.co.uk