The world's first real-time airborne asbestos monitor and alarm is already being successfully deployed on sites around the UK and Ireland.
The award-winning ALERT PRO range offers patented technology, which is changing the landscape of asbestos risk exposure, the single greatest cause of work-related deaths in the UK.
According to the HSE, more than 5,000 people in the UK die of asbestos-related diseases every year. Data from the NORAC & ATAC report shows that many thousands of tonnes of asbestos can still be found in up to 78% of all buildings constructed or refurbished prior to 2000. This presence can be within, but not limited to, pipe or plant lagging, insulation, fireproof panelling, cement roofing materials or sprayed coatings.
The ALERT PRO represents the biggest step forward in asbestos safety management technology for decades. It speciates between asbestos and non-asbestos fibres using patented light scattering technology and the paramagnetic properties of asbestos
to deliver results with a 99% confidence level.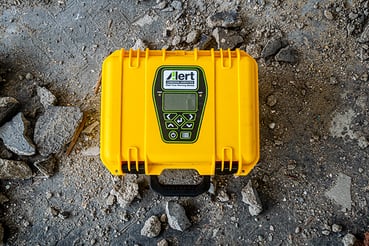 Not a replacement for existing methodology, the ALERT PRO complements asbestos testing and current legislative requirements by providing real-time data on airborne asbestos risk. All other forms of asbestos air monitoring provide a singular result for a sampling period with an average concentration for the entirety of the period but no detail about specific time periods.
The timestamped data provided by the ALERT PRO is a brand-new data set, not previously available in asbestos risk management. The data is timestamped and provides users with the ability to determine peak risk, specific activities that have led to the release of fibres and understand what factors are increasing risk from asbestos over time.
The ALERT PRO 2000 Connected model provides real-time data in the cloud, instantly available to anyone who has access to the ALERT CONNECT data portal. Immediate notifications can be sent via SMS, email or third-party applications for any asbestos releases or faults to an unlimited number of users who are responsible for monitoring the site and can be based either locally or remotely.
Shawcity, a leading distributor of cutting-edge health, safety and environmental monitoring technology, is a key partner of manufacturer Alert Technology Ltd, having recognised very early on the impact the ALERT PRO could have for so many industries, including construction, remediation, facilities and estates management.
Statom Group, a Shawcity customer committed to optimising their workplace health and safety practices, was very keen to trial the ALERT PRO. A forward-thinking, independent construction business specialising in remediation, RC Frame and groundworks, Statom Group could see the potential that ALERT PRO offered in terms of site safety for their workforce, as well as neighbouring communities.
Sean Deloughery, Statom Group's Remediation and Environmental Director, explained:

"Our partnership with Shawcity means we have access to a dedicated product specialist in their team who gets to know us and understand our business needs.
"Ben Crane is our Shawcity account manager, and he introduced us to the ALERT PRO at the start of 2023. We were immediately interested because it is completely unique technology designed to alarm when asbestos is present in the air and that represents a key benefit for us.
"On remediation sites, you can never be 100% certain of exactly what you're going to be presented with, so we were very interested in hiring a unit for a trial period. It quickly became apparent to us that the cloud-based data was invaluable. Not only could we check any areas suspected of containing asbestos very quickly, but that data could also be monitored remotely too, by anyone from our team in any location.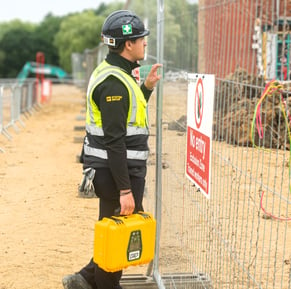 "The hire trial was very impressive – so much so that within a month we had placed an order to buy our own ALERT PRO. We plan to buy a second unit by the end of 2023 and potentially two more by the end of 2024. That will give us a fleet which can be deployed same day at any of our sites, as required. Easy to maintain, the ALERT PRO offers us low cost of ownership, with an annual calibration and a simple cleaning routine.
"One of our current sites was formerly a part of the Havering College campus. There were seven buildings all dating back to the mid-twentieth century – a time when asbestos-containing materials (ACMs) were widely used in construction. The college has built new, modern premises on a different site, so the old premises are being demolished and the land reutilised for a 120-house residential development. We have used the ALERT PRO during the 'stripping out' phase of the project, in addition to the monitoring required by legislation, when asbestos is most likely to be disturbed and released.
"The surrounding area is heavily residential and, while we have always been very considerate towards any nearby properties, Statom now has instant data as well as downloadable reports which we can share with neighbours or the local authority to demonstrate that asbestos risk is being monitored and contained. We can also set
units up at perimeter monitoring points, for that extra level of protection.
"The ALERT PRO is an ideal solution for low- to mid-level asbestos risk sites, as it's quick and easy for us to deploy. It acts like a first line of defence and, if it confirms asbestos is present, we then call in a consultant to give us a more in-depth analysis. With built-in GPS, our reports also log the location of any activity with pinpoint accuracy.
"As far as we're concerned, our first ALERT PRO unit has already paid for itself in terms of efficiency. We save time by having a live and accurate picture of risk levels on site. We like to work with total transparency and ALERT PRO is another tool that enables us to demonstrate our competency as a contractor and stay ahead of the curve in terms of compliance. This offers our customers peace of mind too.
"We have previously used technology for monitoring and controlling particulate and dust, but this is the only technology we have seen which can speciate every type of asbestos. What's more, we know it has the approval of our workforce. Sometimes in this industry, there's a reluctance to adopt new practices out on site, but our teams can see that this technology works so we know they will definitely be using the ALERT PRO.
It improves confidence across the site that everyone's safety is our priority."
For further information on managing asbestos, visit the HSE website: https://www.hse.gov.uk/asbestos/intro.htm.
The Alert PRO 2000 connected model won the prestigious 2023 BSIF Product Innovation Award. If you would like any further information on the ALERT PRO range of real-time airborne asbestos monitors visit: https://products.shawcity.co.uk/products/asbestos-alert-pro
To arrange a free demonstration, contact the Shawcity team on: 01367 899419 or email: solutions@shawcity.co.uk.
For further information, please contact the Marketing Department at Shawcity Ltd:
Tel: 01367 899419